We are happy to participate with the CACFP (Child and Adult Care Food Program)! Our meal menus are healthy, well rounded, yummy and FREE!!! We add a generous serving of love in all of our food! Fresh fruits and vegetables served daily.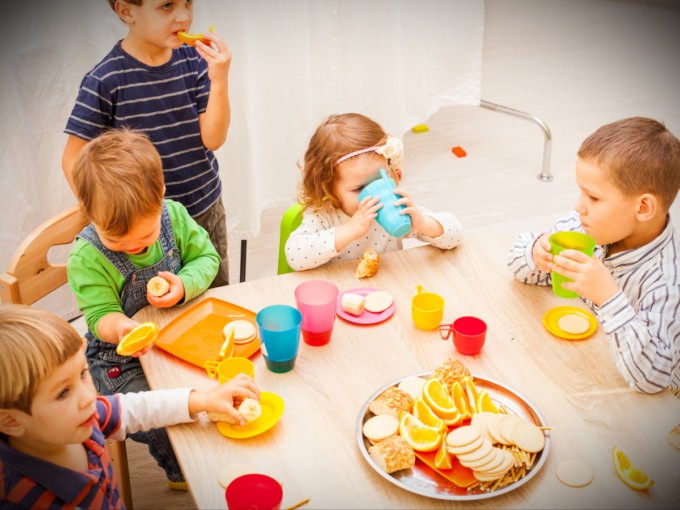 Sample Way to Grow! Menus
Monday
Tuesday
Wednesday
Thursday
Friday

Breakfast
07:30-08:00

Milk
Grapefruit
Granola Bars
Milk
Strawberries
Oatmeal
Milk
Cantaloupe
English Muffins
Milk
Apple Slices
Corn Bread
Milk
Mixed Fruit
Toast
AM Snack
09:45-10:15

Yogurt
Bananas
Cottage Cheese
Peaches
Milk
Graham Crackers
String Cheese
Cucumbers
Oranges
Rice Cake Snacks
Lunch
11:30-12:30pm


Milk
Chicken Nuggets
Broccoli
Bananas
French Bread
Milk
Texas Mac
and Cheese
Green Beans
Pears

Milk
Tuna Sandwiches
Pickles
French Fries
Bread
Milk
Chicken Alfredo
Mixed Veggies
Mandarin Oranges
Fettuccine
Milk
Ham and
Cheese Sandwiches
Salad
Tater Tots
Bread
PM Snack
02:45pm-03:45pm

Milk
Poptarts
Mandarin Oranges
Pretzels
Cheese
Tortilla Chips
Apples
Muffins
Bananas
Goldfish Crackers
In accordance with Federal Law and U.S. Department of Agriculture policy, this institution is prohibited from discriminating on the basis of race, color, national origin, sex, age, or disability.
To file a complaint of discrimination, write
USDA, Director, Office of Adjudication,
1400 Independence Avenue, SW,
Washington, D.C. 20250-9410
or call toll free 866.632.9992.
Individuals who are hearing impaired or have speech disabilities may contact USDA through the Federal Relay Service at 800.877.8339; or 800.845.6136 (Spanish).
USDA is an equal opportunity provider and employer.